We are very proud that after being open for only three years as a business, we have already had five celebrities that have stayed with us, one of these being a politician, whose pictures we are not allowed to show on our site, but are available in our guest photo book.                      Michelle Aguilar
December 17, 2008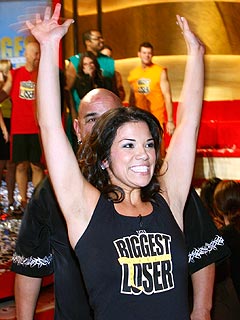 Some moments in life are meant to be shared with family. On Tuesday's
Biggest Loser:Families finale, Michelle Aguilar got that moment with
her estranged mother when she won the season six title with a whopping
110-lb. weight loss.As confetti rained down around her and the crowd went
wild, Aguilar – who beat out this season's villain, Vicky, and Ed, the only man
to make it into the finale – celebrated her victory and a $250,000 prize by
jumping off the scale for a group hug with her mom Renee Wilson, whom she
barely knew before the two went on the show together and hugged her.
She tells PEOPLE that after a gruelling journey to victory, she's ready for a
break. "I am planning a really good vacation for the family," says Aguilar,
a 27-year-old an assistant director from Fort Worth, Texas.
"I think everybody needs a little time off. We're all a little bit worn out – at least I am!"
                     Grady Lee Richmond




On location in New Zealand for

Capitol One

.






Gary Lee Richard star in 'The Chicago Conspiracy Trial'
Grady Lee Richmond

Grady shows up a lot on your TV, in commercials for motor oil, water filters, phone
 services, and the like...almost always as The Scary Biker Dude. Grady was also seen
 in episodes of the Animal Planet Cable series Hollywood Safari
, guest starring as an
evil poacher. He has had roles in the films Show And Prove, Millennium Eyes,
 Speechless, Wild Bill,
a costarring role in Paper, Rock , Scissors
,a fleeting but
memorable role in Mouse Hunt
, and a starring role in the feature film Human Quality.

Stage appearances include Round The Horn
at The Venue, Cementville
at Theatre Geo,
 and Birdsendat The Gascon Theatre.

Grady Lee Richmond is the Associate Producer and Production Stage Manager
at Actors Art Theatre. He was featured in the
TBS
's Funniest Commercials playing
'Grady The Badger' for Johnston Automotive.  Among his favorite roles was 'Santa',
 the part he was born to do, for CBS Television. 
 Singers from TV station CELEBRATION (daystar.com)
                        Kendra Kelly & Leeann Morris