Share the Alla's Historical B&B with loved ones!
             Want the perfect birthday, anniversary, or holiday gift?
  Look no further - a Gift Certificate to the Alla's Historical B&B is a great way to
give the gift of relaxation in a Historical Place!
A Gift Certificate is a great gift for friends, family members, to your sweetheart,
 business associates...    also a wonderful way to say  "thank you". There is no
need to ever leave the comfort of your home, no lines, no hassle!
   ONE SIZE FITS ALL! 
   For the PERSON who has EVERYTHING!

            The perfect gift that will be remembered for a life - time!
Coming to the Dallas Fort Worth area and do not know what to do?
Please visit our
Dallas Events Calendar
for various dining and  attractions  tips that will make your stay here a memorable one!       here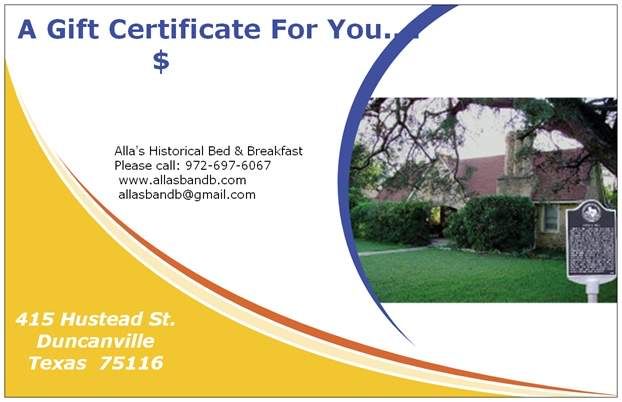 Any desired message can be custom printed on the back of your Gift Certificate.
  To add A special touch to your gift certificate, select from the list below:
 Romantic Interlude Package


Fresh cut bouquet of flowers.


   Bottle of wine,     Half dozen European chocolate candies.  Dinner for two.
  

Priced for couple: $

150.00 +  (room cost)

 
   Floral Bouquet Package
For your room, you may order:
 Bouquet of fresh cut flowers in a souvenir vase.
 A box of European chocolate candies.
  

    Priced for $

55

.00 +  (room cost)

 
 Girls' Slumber Parties!
Special package includes:
Enjoy entire house with your own bed rooms,
 Delicious hors d'oeuvre upon arrival,    Full evening candlelight  dinner and,    Hot breakfast the next morning.           


       Minimum 4 girls for $3

90

and $

8

5.00 for each additional lady.


 Have fun, talk all night , and have breakfast anytime the next morning late!
 
Celebrate!

A bottle of champagne,  and box of European chocolate candies.
     Priced at $65.50
Pure Love
 A bottle of champagne, one dozen long stem roses and chocolate dipped strawberries.
   

  Priced at $99.50
Goodies Night
A bottle of Cabernet Sauvignon,  a plate of  cheeses, fruit and crackers and box of European chocolate candies.
    

Priced at $90.00
Instant Romance
 Have a bottle of wine, European chocolate candies, bouquet of flowers
Priced at $99.00
Fruit & Cheese Plate
Enjoy a plate of fruit and traditional cheese.
    

Priced at $30.00
Wine
, Fruit &Cheese  Plate
A plate of fruit, traditional cheese, your choice of Cabernet or Chardonnay wine
      Priced at $75.00

Cheese & Cracker  Plate
 A Yummy snack of traditional cheese with crackers and  a bit of fruit
 

    Priced at $20.00
Seasonal Fruit & Dipping Sauce
Choose from strawberries, juicy apples or sweet bananas and add  a Chocolate Sause for dipping.
 

    Priced at $17.00